+++ REDEEM BY 30 APRIL 2023!
50 EUROS. FROM BERLIN. FOR YOU.
The JUGENDKULTURKARTE: Free admission at many Berlin cultural venues for all Berliners aged 18 to 23.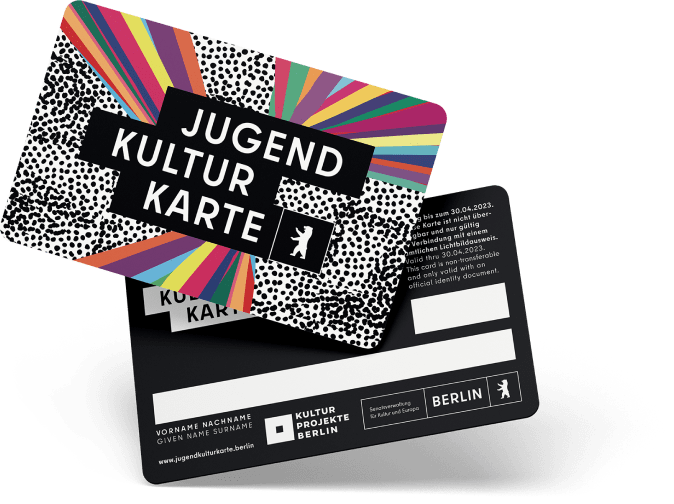 What is the JUGENDKULTURKARTE?
A 50-euro cultural credit for all young Berliners between the ages of 18 and 23 during the campaign period
The JUGENDKULTURKARTE is an invitation to rediscover Berlin's cultural diversity – regardless of your budget
Redeemable from 1 February to April 30 2023 for tickets at several Berlin cultural venues, including theatres, stages, literary centres, museums, exhibition spaces, cinemas and clubs
All important information can be found in the FAQ
The JUGENDKULTURKARTE is an initiative of the Berlin Senate Department for Culture and Europe in cooperation with Kulturprojekte Berlin
Discover the cultural diversity of our city! You can redeem your 50-euro credit for tickets at several cultural venues until 30 April 2023.
Yes, you can also use the JUGENDKULTURKARTE to buy tickets for accompanying persons and, for example, invite friends or family members to visit the cinema together. However, you must always be there yourself.
No, the JUGENDKULTURKARTE can only be redeemed for tickets. No other products sold at the cultural venues (e.g. popcorn, drinks, postcards, playbills, books, etc.) can be purchased with the credit.
If your card is broken or not accepted at the cultural venues, please contact
[email protected]
.
Please note that the card will not be handed out without the appropriate proof.
Yes, please report the loss immediately at
[email protected]
. If there is still credit on your JUGENDKULTURKARTE, the card will be blocked and we will issue you a new card with the amount of your remaining credit. If in the meantime the credit on your card has been redeemed, we unfortunately cannot refund it to you.
You could pick up your JUGENDKULTURKARTE after registering online from 1 February – 28 February 2023 at one of the participating libraries, then at Podewil until 15 March 2023. If you are unable to pick up your card for a valid reason, please contact us at
[email protected]
and briefly describe your request.